ICANN: Buenas practicas en DNS y DNSSEC
Ubicación:
Salon Principal 6to Piso
-
8/11/22 16:00
-
8/11/22 17:00
(
UTC
) (
1 hora
)
---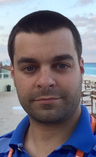 Nicolás Antoniello
Technical Engagement Manager for LAC region
at
ICANN
Nicolas Antonniello as Technical Engagement Manager for LAC region, Nicolas Antoniello 




joined ICANN in March 2020, based in Montevideo office, Uruguay. Nicolas works in




coordination with other regional engagement functions at ICANN and leads the execution




of the technical engagement strategy. Nicolas is an Engineer and graduated from 




'Universidad de la República', Motevideo, Uruguay, in the field of Telecommunications, 




Electronics and Power Systems. For the last five years, he was appointed as a Senior




Advisor for the Uruguayan Government's Minister in charge of national telecommunications 




policy. During his appointment to the Ministry he has represented Uruguay at many 




regional and international level organizations and treaties. In the past years he has 




been working for the national telecommunications company (ANTEL) in different positions.




He has been a university professor for over 14 years. He has also been working very 




close with the Internet Technical Community. He has been the Chair of LACNIC's Public 




Policy Forum for over 6 years; technical instructor at the LACNIC events for many years; 




as well as participating as instructor in many other courses at regional level. He 




participated from the community in the development of the DNSSEC Root signing protocol 




and has been working as a TCR (Trusted Community Representative) for the DNSSEC Root 




signing process and Key maintaining protocol. After the IANA transition, he was appointed 




to one seat on the IANA Numbering Services Review Committee corresponding to the LACNIC




region, where he served for three years. He is also founding member of LACNOG (the Latin




America and the Caribbean Network Operations).
Se debe especificar una dirección para que un mapa esté incrustado